Lewis Leathers Museum
This group of pages depicts the Leather Motorcycle clothing my girlfriend and I have owned and many other images to chart the styles produced by Lewis Leathers over the years. I have tried to give an idea of the timescale of the various styles as they changed to meet the customers needs inline with mainstream fashion. With trousers for instance, mainstream fashion went from the straight leg of the Sixties to flares of the Seventies and by the early Eighties skin tight stretch denims. We all thought we looked good at the time but with hindsight it can be very different.
Firstly we need to identify the 'Lewis Leathers' brand this museum is dedicated too. Confusingly there is another 'Lewis' making Leather and other motorcycle apparel. The pictures below show their logo for comparison, no inference should be drawn as to the quality of these products by the lack of coverage on this site, as they are thought to be equally good.
Lewis Leathers Labels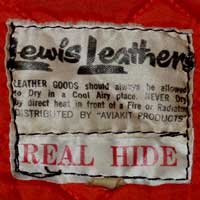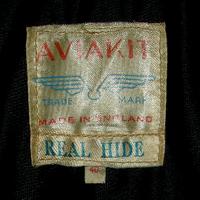 Over the years the labeling in the garments changed, here are a few examples of the more common ones.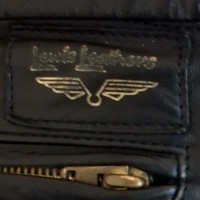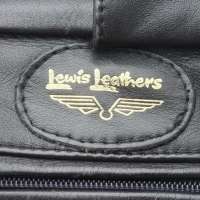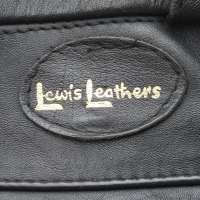 Earlier garments had an oblong rather than oval external label. The Aviakit wings were later dropped from the outer oval label. On trousers it is not unusual to find the print on the oval completely worn away by the owners belt.
The "other" Lewis Brand Labels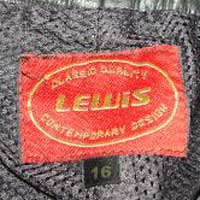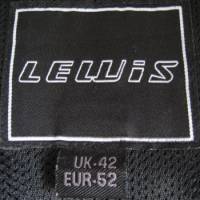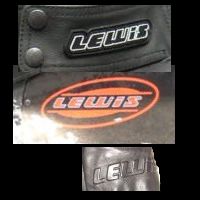 Another company makes motorcycle gear trading as 'Lewis' but without the word 'Leathers' these can be easily distinguished as the font of the word 'Lewis' is very different in appearance to the classic vintage labels in 'Lewis Leathers' garments.
Company History

The company was started in 1892 by Mr D Lewis who had premises at 124 Great Portland Street, London. They started making Leather garments for flying and motorcycle use in 1929. The original items bore a label like this one from a flying helmet.
Lewis Leathers made their name after WW2 selling motorcycle gear. Although Lewis were a London company they had shops in various towns including one in Birmingham at the old Nineteen Sixties Bullring, shutting many years before the place was demolished to make way for the current shopping centre. Lewis were well known for their high quality leathers bearing the label Aviakit inside and an oval Lewis Leathers patch externally, but as prices increased in the eighties they introduced a cheaper range which although it bore the same label, was of noticeable lower quality. This coincided with the shops and trademarks being sold to a series of owners.
• 1981 Acquired by Ward White.
• 1982 Becomes a subsidiary of Easyrider Motorcycle Clothing, owned by the Newbold family who also owned the 'Kett' brand of motorcycle clothing.
• 1983 Lewis Leathers acquire 'Highwayman' leathers.
• 1986 Richard Lyon buys Lewis Leathers.
• 1993 Original shop at 124 Portland Street closed.
• 2003 Lewis Leathers sold to current owner in June.
The company has returned to making high quality garments is the styles of yesteryear.