Steve Scanlon's Free Change Ringing Software for Windows
Site Owner
S t e v e S c a n l o n
Contact Me Link
I was introduced to Change Ringing at the age of 40 but although I find it an enjoyable pastime the learning process has been difficult. Since my teenage years I have enjoyed computer programming and applied this to bellringing to create some software to help me. I was persuaded by friends to make this available on the web so I hope you find it helpful too.
Unrelated to Bell Ringing I have also written other miscellaneous software for Free Download and usage.
Overview of Software
For more than 15 years, I have provided free software for bell ringers to download to their computers. I was only ever able to support the Windows range of operating systems leaving the increasing number users with other operating systems in the cold. As the security of Windows improved over the years, they started to create false warnings of dire consequences of installing software like mine.
The Windows only software titles have been replaced with a new online facility. The 'Change Ringing Toolkit' an Internet tool based on the HTML Version 5, replicates the functions contained in the four withdrawn software titles and adds more functionality too. It is independent of the operating system, so users of Android, Linux, Macintosh and Windows can use it.
Important News for iPad, Tablet and Smartphone Users
and Desktop and Laptop users of Windows Vista, Win 7 and Win 8
Advances in modern browsers that now support HTML5 standards open up the possibility adding a lot more intelligence into web pages than has been possible before. You can now access on the Internet many of the functions only previously available in my downloadable programmes. The pages in the 'Change Ringing Toolkit' work with IE9, Google Chrome v23, Firefox v16 or later, and have the functionality of the Method Workshop, Method Tutor and Call Change Ringer.
Windows XP Users
Although Microsoft IE9 required to access the Toolkit has never been supported on Windows XP, it is my understanding that Google Chrome can be installed on XP, and this supports HTML5 required by Toolkit.
Try the 'Change Ringing Toolkit' now - it is free!
If your browser isn't compatible it will say.
Click here www.ringbell.co.uk/toolkit/
Downloadable Windows (Only) Software Descriptions
The only remaining Windows Only software that you can download to you PC or Laptop is the Tower Visit Logger. All my other programs [RINGBELL - CALL CHANGE RINGER - METHOD TUTOR - METHOD WORKSHOP] that were previously available from 1997 have been incorporated in the 'Change Ringing Toolkit' and therefore support for these has been withdrawn.
Please click on the icon below to read the full description
Tower Visit Logger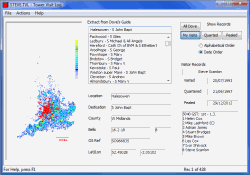 Record the dates of your first Visits, Quarters and Peals at a tower.
Print Visit Log on A4 Sized Map
User of the Tower Visit Logger may use the link below to print their visit log on a full sized map of the UK, which isn't possible from within the now ancient program itself.
Online Visit Plotter HTML Page
Old Software Titles now Incorporated in the Change Ringing Toolkit

Call Change Ringer



Compose and understand changes.

Ropesight Tutor



Stand behind the circle, watch and hear the bells being rung.

Method Tutor



Learn Plain Bob and Grandsire using the clock face.

Method Workshop



Print Method Diagrams, Blue Lines, Touches.