Missile Attack
Fylingdales RADAR Station
This is the familiar sight of Fylingdales, Ballistic Missile Early Warning System (BMEWS) station during the Cold War period. Constructed during the early 1960's as part of a chain of radars protecting the USA. The famous radomes were replaced in 1992 with an upgraded system consisting of a pyramid construction housing a phased array radar.
Detection Pattern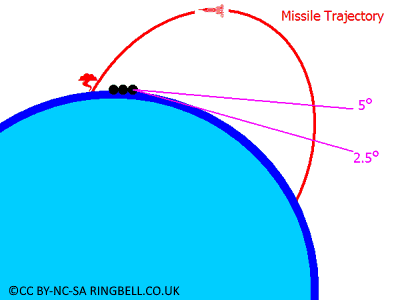 Each of the three radomes contained a rotating radar head each with a range of about 3000 miles. One scanned at an angle of 2.5° above the horizon and another at 5° above the horizon. A missile launch would cut through both of these beams in turn. The third radar would track the object and calculate its trajectory. Many separate objects could be tracked simultaneously.
Situation Display Console
Fylingdales Situation Display Console at the Radar Museum, Neatishead.
If the calculated trajectory and other characteristics were thought to indicate it to be a missile the Situation Display Console would have warned of the impending attack. The BMEWS system at Fylingdales was one of three operated by the United States as part of their early warning system. The three stations were connected back to the USA via a series of tropospheric scatter radio links.
The left hand table leg of the situation display contained a phone console. The bottom right button is marked 'MOD' and connected the console operator to the Ministry of Defence (MOD), Strike Command at RAF High Wycombe. The top right button marked 'UKWMO' connected with the United Kingdom Warning and Monitoring Organisation (UKWMO) at Preston. If the expected target was in the U.K. the console operator would have used these phone links to communicate the bad news