Central Government
CGWHQ Layout
In the event of a nuclear war, plans were made to disperse national government out of London. During the late Fifties, a former stone quarry near Corsham, Wiltshire that had been used during WW2 as an aircraft engine factory, was adapted as the Central Government War Headquarters (CGWHQ). The site, said to measure 700 metres East to West, 275 metres North to South was designed to house 4000 - 5000 people. At a depth of 28 metres below M.O.D. Property, its just South of the Box railway tunnel in a parcel of land bounded by the B3109 Bradford Rd and Westwells Rd in Hawthorn near Corsham.

The disused stone quarries all around this area provided the stone for the construction of nearby Bath and many notable buildings throughout the country during the 1800's. See https://en.wikipedia.org/wiki/Bath_stone for more details. Mining began in the Corsham quarries after the thick layer of Bath Stone was discovered during the cutting of the Box railway tunnel in the 1840s.

The CGWHQ is just a small part of an extensive stone quarry around Box area of Corsham, other parts hold the MOD South West Communications Centre and NAVY stores at Copenacre.

In part 1 of his e-Book, Steve Fox explains how the CGWHQ bunker has become popularly known by the codeword 'Burlington'
---
For security purposes the code name was changed frequently and was itself classified but some years ago when the matter was still secret Duncan Campbell, the investigative journalist and author of the seminal book on British civil defence War Plan UK found one code name - BURLINGTON, and this name has unfortunately stuck particularly among the less well informed. But this name was only used for 2 years. The full list of code names for the war headquarters or the CGWHQ as it was often termed throughout its operational life is -

1951 - 1959 SUBTERFUGE
1959 - 1961 STOCKWELL
1961 - 1963 BURLINGTON
1963 - 1970 TURNSTILE
1970 - 1987 CHANTICLEER
1987 - 1992 PERIPHERAL
This website is concerned with Civilian Emergency War Communications, to obtain an understanding of the policies and politics surrounding its role in a perceived nuclear war, may I suggesting reading the e-Book 'TO BURLINGTON AND BEYOND' 'The Story of the Central Government War Headquarters by STEVE FOX' found at URL http://burlingtonandbeyond.co.uk/
Before being declassified in 2004, the CHGWQ due to its nature the site was an extremely secret location and protected by various codewords and cover stories about its use. However it was necessary for it to be the hub of a communications network. There were ordinary lines to public exchanges and numerous private circuits to civilian and military establishments.
As a former GPO / BT engineer, I have always been puzzled how such a large communications centre could be hidden in the network. In recent years the archives reveal that most of this network was in the open.
Telephone Exchanges and Repeater Stations are identified by an Engineering Code, known as the THQ1141 code consisting of two or three letter codes. GPO Radio Microwave stations have a four letter code beginning with 'Y' and this was extended to include customers premises renting private wires (PW) also known as private circuits. These THQ1141 codes were published openly throughout the organisation.
A series of 1141 codes having four letters starting with 'Q' were reserved for use at Government and Military establishments. However, these were controlled by Telephone Headquarters (THQ) and only released on a need to know basis. Once the CGWHQ was declassified and photographs of the telephone apparatus appeared on the Internet, it became apparent the 1141 code was 'QQCF'. The South West Communications Centre (SWCC) is next door to the CGWHQ, the archives show that many potential parts of the CGWHQ network terminate at SWCC in peacetime and would be extended should the bunker need to be brought into use. The SWCC has the 1141 code 'QQCC'.
Lines, General A6131 Extract [1966]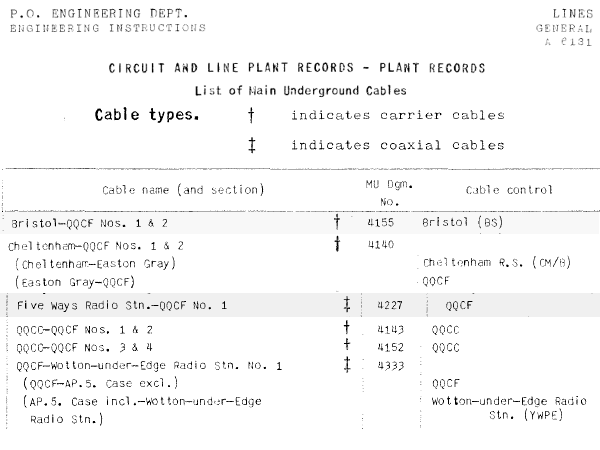 The BT Archives hold a document, a P.O. Engineering Instruction: Lines, General A6131. A copy of this 58 Page document must have been distributed to hundreds if not thousands of GPO sites throughout the country, it was certainly not secret, giving a list of main underground cables and their maintenance control. This 1966 copy is Issue 14, regular updates would be issued when necessary.
Armed with the 1141 Code for the CGWHQ and SWCC, we can find a number of entries, representing direct cables additionally other cables may pass through on route between cities.
Direct cables to QQCF radiate out to: Five Way microwave radio station 'YCSM', South West Communications Centre 'QQCC', Bristol 'BS', Wotton under Edge microwave radio station 'YWPE' and Cheltenham telephone repeater station 'CM/B'
Future of the Corsham CGWHQ Site
| | |
| --- | --- |
| Radio Studio | 1409123 |
| Tunnel Quarry | 1409857 |
| GPO Telephone Exchange | 1409129 |
| Slope Shaft (Emergency Exit) A | 1409125 |
| Personnel Lift (PL) 2 | 1409130 |
| Quarry Operations Centre (QOC) Murals | 1409132 |
| Kitchen, Canteen, Laundry, Dining and Washroom Areas | 1409120 |
| Lamson Terminus Room and associated Fan Room | 1409121 |
| Prime Minister's Rooms and Operations Rooms | 1409131 |
| Quarry Working Areas in West Lung, Spring Quarry | 1409858 |
The Central Government War Headquarters important site that needs to be preserved for future generations. Ten separate parts of the former CGWHQ are scheduled under the Ancient Monuments and Archaeological Areas Act 1979.
To see the scheduling visit the Historic England website, ( www.historicengland.org.uk ) and enter the List Entry Number into the search box. Very sadly, many of these scheduled items appear in the 'Heritage At Risk Register' mainly due to the damp atmosphere in the mine.