Local Distribution to Warning Points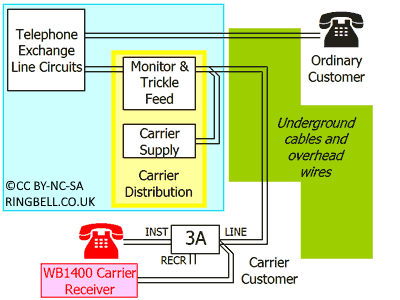 To provide a customer with WB1400 service,their exchange line circuit is routed via the trickle charge feed and monitor unit, then out to line. A carrier supply from one of the fifteen outputs from the three distribution amplifiers is wired across these same line connections. A filter within the monitor and trickle feed unit prevents the carrier being shunted by the customers exchange equipment.
At the customers premises, a Filter 3A is used to block the carrier from the telephone instrument. The RECR terminals on the filter that were used for the earlier system's receiver are left disconnected. The WB1400 Carrier Receiver is connected directly to the line so it may receive the carrier and to trickle charge its battery.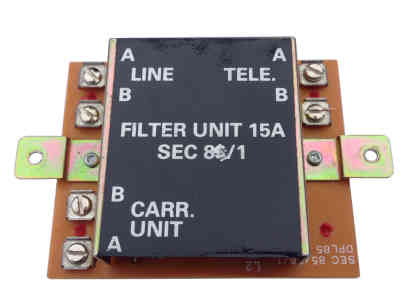 For new installations at premises not already having a WB receiver, the Filter Unit 15A pictured here without its case, supersedes the older 3A. The new design gives better sidetone performance on the associated telephone.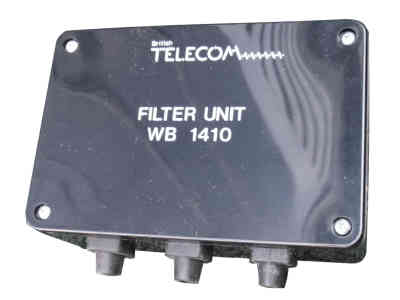 A special filter is required to handle the four wire circuit found at ROC Posts.
At the ROC Post, the Teletalk employs two pairs of wires, the first pair carries the speech from the Teletalk. The second pair is intercepted via a Filter Unit WB 1410 to separate the carrier from the speech and power sent towards the Teletalk. The filter reintroduces the receiver trickle charge derived from the terminating unit. The complete wiring can be found in the documentation library diagrams, WB29670 sheets 5 & 10.