National Attack Warning Centres
I took the photograph below at Hack Green Museum, and kindly thank Graham Carlisle for the gallery photographs of the table mounted control console and rack mounted test panel, in this section.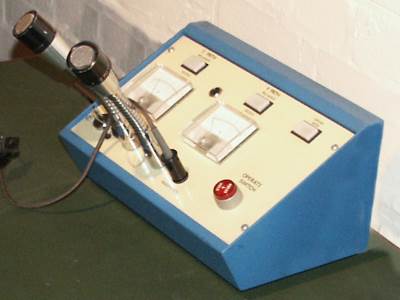 The main source of the National Nuclear Attack Warning would be the Air Defence Operations Centre ( ADOC ) at Strike Command in RAF High Wycombe, with a back up at the Preston U.K.W.M.O. Sector Headquarters, located at Langley Lane, Goosnargh, Lancs. This table mounted unit would be used to issue the message to the 250 Carrier Control Points (CCP).
The operator would turn the safety interlock key switch.
Press the large Red operate switch.
The speaking clock would be removed from all the national distribution rings.
A one second burst of two simultaneous tones of 1200Hz and 1440Hz known as P+Q tones would be sent to sound the incoming message alarm in the CCP.
When the "Speak Now" light illuminated the operator would announce the message into the dual microphones. This would be conveyed to the injection exchange for distribution on all four of the speaking clock rings.
The control console, with its associated signalling equipment and transmission links to the speaking clock were collectively known as WB1800. The abbreviation 'WB' for wire broadcast, in this case broadcasting of audio messages and signalling tones.
The two injection sites at High Wycombe and Goosnargh, each had a single private circuit ( PC ) to each of the speaking clock switching units, one in London and the other in Liverpool. The two switching sites were connected together by two private circuits, maximising the chances of the message being transmitted over the four speaking clock rings. Police Station carrier control points received their duplicated speaking clock feed from both London and Liverpool.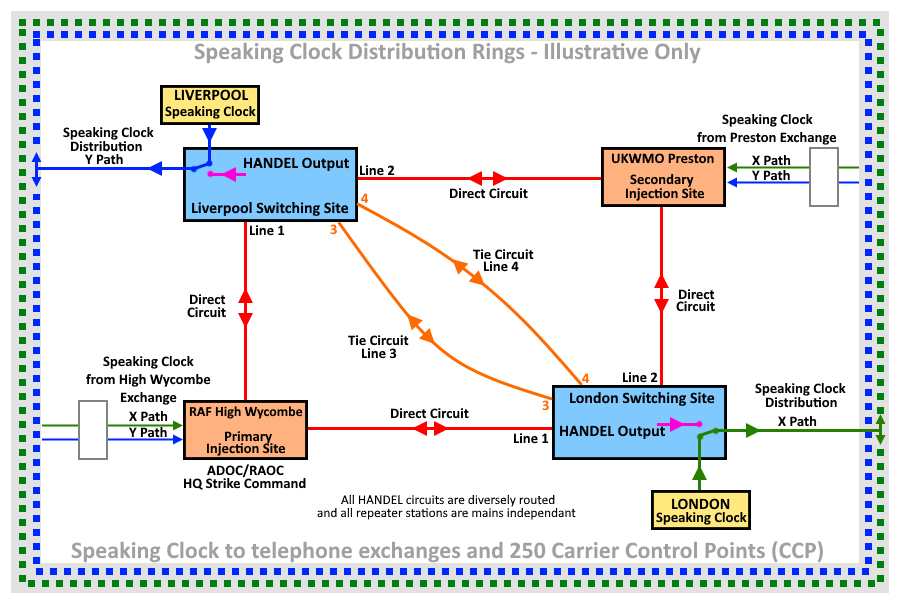 The desk mounted, operating console (Unit WB1800/1A) is wired back to the BT apparatus room, which contains rack mounted signalling equipment and power supplies necessary to make it function. A rack mounted version of the console, the 'Test Panel' (Unit WB1800/2A), is normally used for testing from the apparatus room, but could be used in an emergency. The printed circuit board in both these designs of control unit is designated a Unit WB1800/3A. Unfortunately the circuit diagrams for this equipment are not available in the BT Archives.