Central Government
In the event of a nuclear war, plans were made to disperse national government out of London. During the late Fifties, a former stone quarry near Corsham, Wiltshire that had been used during WWII as an aircraft engine factory, was adapted as the Central Government War Headquarters (CGWHQ). The site, said to measure 700 metres East to West, 275 metres North to South was designed to house 4000 - 5000 people. At a depth of 28 metres below M.O.D. Property, its just South of the Box railway tunnel in a parcel of land bounded by the B3109 Bradford Rd and Westwells Rd in Hawthorn near Corsham.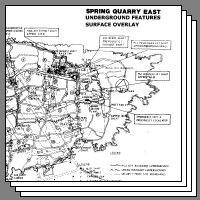 The disused stone quarries all around this area provided the stone for the construction of nearby Bath and many notable buildings throughout the country during the 1800s. See https://en.wikipedia.org/wiki/Bath_stone for more details. Mining began in the Corsham quarries after the thick layer of Bath Stone was discovered during the cutting of the Box railway tunnel in the 1840s. The CGWHQ is just a small part of an extensive stone quarry around the Box area of Corsham, other parts hold the MOD South West Communications Centre and NAVY stores at Copenacre.
Before being declassified in 2004, the site of the CGWHQ was an extremely secret location and protected by various codewords and cover stories about its use. For security purposes the code name of the facility was changed frequently, the approximate periods for these various codewords were : 1951 - 1959 Subterfuge, 1959 - 1961 Stockwell, 1961 - 1963 Burlington, 1963 - 1970 Turnstile, 1970 - 1987 Chanticleer, 1987 - 1992 Peripheral.
This website is concerned with Civilian Emergency War Communications, to obtain an understanding of the policies and politics surrounding its role in a perceived nuclear war, may I suggest reading the e-Book 'TO BURLINGTON AND BEYOND' 'The Story of the Central Government War Headquarters by STEVE FOX' found at URL http://burlingtonandbeyond.co.uk/wp/